Anniversary Crystal Flute Set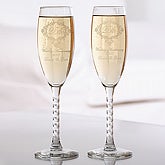 Make this year's wedding anniversary last a lifetime. Looking for a great wedding anniversary gift idea? The personalized crystal flute set is the perfect long-lasting anniversary gift.
Each flute shaped crystal glass is 8½" tall with a twisted stem. Your names and the anniversary date will be engraved along with one of two different designs. Even if it's an anniversary year that isn't a multiple of 5, you can still do it! Personally, I'd go for a different number, like 13 or 27 or something unusual, just for fun! That'll make people look twice.
One Response to Anniversary Crystal Flute Set